The Treo Pro is Palm's second new device of 2008. The Treo Pro brings something to Palm's lineup that has been sorely needed in recent times, a dramatically refreshed smartphone that delivers a modern new look with the features to match. It further enhances its profile with a pleasant amount of innovative new features packed into the Palm's most attractive new design in some time. The Treo Pro runs Windows Mobile Professional 6.1 and also makes its mark as the thinnest Treo smartphone to date.
Unlike many past Palm smartphone introductions the Treo Pro is premiering as an unlocked model first in most markets. The device will be made available online at Palm.com for $549 USD beginning sometime this fall. Being an unlocked device it comes with a higher than normal price tag because of the absence of carrier subsidies and discounts. However, customers do gain the option of bringing their own SIM card and phone plan to use on the GSM network (AT&T or T-Mobile in the US) of their own choice.
Treo Pro Design
The new hardware is pleasantly modern and includes all of the usual high end features in smartphones these days. The Pro comes in Palm's Obsidian Black and features a glossy hard plastic casing. The device has a pleasant feel to it all around with no harsh lines and plenty of smooth surfaces and rounded corners. It's also very well built with a genuinely solid feel all around and nicely sloped sides that add to its good grasping factor.
Nearly everything except the d-pad and keyboard lies flush with the device adding to its smoothly polished appearance. The exterior comes together quite well and is genuinely stylish while retaining a delicate balance of professionalism.
The usual Palm hardware touches have been incorporated such as the classic ringer switch and the smoothed out side buttons. The newly necessary, yet efficient, Wi-Fi button is present. And a IR port is still there for good measure. The small port array sticks out a bit along the bottom and contains the microUSB port, the marvelous new standard sized 3.5mm stereo headset jack and the microphone inlet.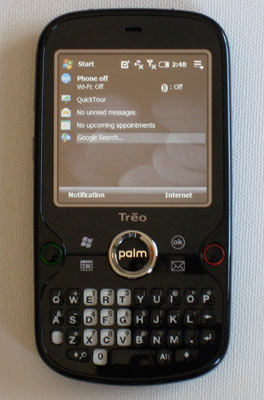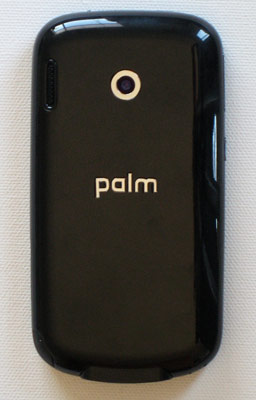 The back of the device is almost as attractive as the front in its own unique way. The centered camera lens and a large silver Palm logo are the only standouts on the otherwise smooth and shinny backside. The speaker grille has literally been pushed aside to the right side-rail in a spot where its unlikely to get muffled. The whole back slides off a hinge with a focused push up with pressure from the bottom.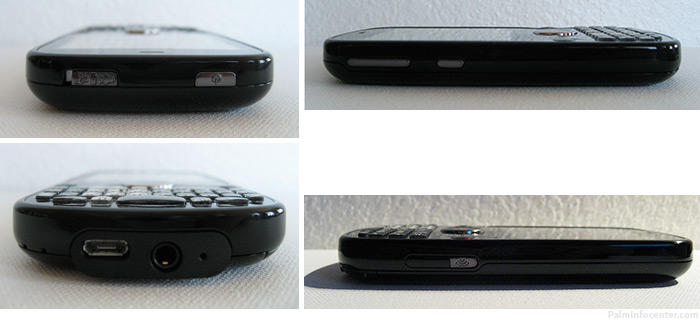 Not normally visible are two LED indicators. One is cleverly hidden to the left of the earpiece that glows red/green whilst recharging and a white LED that activates around the circular d-pad when you have new voicemail messages. The stylus is also concealed on the back and slides out from the bottom right corner. It has a somewhat unusual design. It is metallic, but is awfully truncated. Its much shorter than usual, but I'd prefer a shorter solid pointer over a flimsy plastic toothpick styli without a second thought.
The only negative to the lustrous look is the strong tendency to pickup and show fingerprints. A fine microfiber cleaning cloth should have been included in the box. I can also see the exterior collecting a lot of surface scratches and wear over time. If that's a concern for you a case is always a good idea. The back may have benefited from a soft touch finish but that would take away from the whole glossy motif the Pro has going on. But overall, these are only incidental issues in what is an otherwise excellently designed exterior.
In the dimensions department the Treo Pro works out to 4.49″ (L), 2.36″ (W), 0.53″ (D) Inches (114 x 60 x 13.5mm), and it weighs in at 4.69 oz (133g). When put up against other current smartphones on the market the Pro compares well coming in at about just the same size and the iPhone and a little smaller than the BlackBerry Bold. You can checkout our unboxing video for some additional size comparisons.
Performance
With a 400MHz clock speed you would expect a speedier device, however on an overall basis the Treo Pro felt slower than its recent counterpart the Treo 800w with its 333 MHz chip. Overall performance is acceptable, however certain functions occasionally cause the device to slow down at times, usually when browsing the web. Windows Mobile can be somewhat demanding and it seems the device has a tendency to get caught up at times with some more intensive tasks. I also had trouble with the responsiveness of the onscreen soft-key to answer phone calls, but using the green "orb button" instead alleviated that. Its certainly not pokey in daily use, but in general it just doesn't feel as finely tuned as the 800w.
Display
The Treo Pro sports a 320 x 320 pixel transflective color TFT flush touchscreen. And by flush I mean that the plastic covering remains smooth and consistently level with the outer casing. There is no sunken divot to the display area, which makes for a much cleaner look. Because of that, the touchscreen now automatically locks during calls to prevent accidental button activation.
Treo Pro ReviewThe screen washes out a little bit more than I would like in direct sunlight, but can still remain readable if you crank up the brightness. Indoors and in most office conditions the it looked good. Even at the halfway setting the brightness was comfortable. A new screensaver like function activates when the device and screen are off which subtlety displays the time and dates along with any missed calls.
Keyboard
Ever since the leaked shots of the device we thought would be called Treo 850 first appeared, I was concerned with the keyboard since it mirrored the somewhat challenging micro thumboard found on the Palm Centro. Fortunately, even though they do share the same single sheet keyboard technology, the Treo Pro thumb board is a good amount larger and the keys have more separation than the Centro. The keys are lined up in four rows in a straight across grid. They are a clear soft plastic material that feels a little squishy to the touch but they keep their form and feel solid when pressed. They are also quite flat on the surface, which can take some adjusting to at first.
For the most part the keyboard wasn't too bad, though if you're used to the more spacious "treo smile" design they may take a little getting used to. My typing speed remained pretty much just slightly under what I'm used to on a smartphone. Accuracy didn't suffer too much either, though the keys do feel a bit smaller and less defined and I felt like I had to employ a little more finger precision than usual to stay focused.
Wireless Data & Wi-Fi
The Treo Pro is equipped with an assortment of high speed data options. The phone has a Tri-Band 3G radio that can connect to GPRS, EDGE, UMTS and HSDPA networks nearly worldwide. Another major bonus is the built in Wi-Fi connection. The Treo Pro supports both 802.11 b/g networks as well as 802.1x (EAP-PEAP, EAP-TLS and EAP-TTLS). Palm has made it incredibly simple to setup and manage Wi-Fi connections via a dedicated Wi-Fi button on the side. A convenient tap of the button will automatically connect to any open or known networks, and a double press will show you all of the networks that are within range.
The only bummer is that this button is really flush with the side and is tricky to activate. A long fingernail or the stylus tip may be necessary at times. There is also no audible alert as on the 800w so its not always immediately apparent if you've activated the button or not. Also for the sake of preserving battery life, the Pro shuts down the Wi-Fi radio rather aggressively by default. Fortunately, there is a broad range of customization options so you can define how you want the Wi-Fi functions to behave.
Camera
The Treo Pro includes a 2.0 megapixel digital camera with up to 8x digital zoom. It can take shots in a maximum 1600 x 1200 pixel resolution. It also has a video capture mode. The cameras software uses a HTC provided application, which offers an improved range of features and options than the default Windows version. Shots in good lighting conditions were surprisingly good for a smartphone camera, but low light and nightime shots came out quite dark as one would expect on a device without a flash. Below is an assortment of unedited example pictures taken with the Treo Pro under various lighting situations.
Treo Pro Camera Example Treo Pro Camera Example Treo Pro Camera Example Treo Pro Camera Example
Battery
The Treo Pro comes installed with a removable 1500mAh lithium-ion rechargeable battery. Palm claims this is good for an imaginary 5 hours talk time and up to 250 hours standby. The Pro's decently sized battery does not disappoint. Considering the nearly four year old Treo 650's used to ship with 1900 mAH units, it seems you still have to sacrifice capacity for size. Regardless, power users can expect to see at least get two days out of a full charge. Of course heavier usage and more reliance on Wi-Fi will shorten the lifespan, but even the heaviest push email users should be able to get a full day's worth out of a full charge. Plus the portability of the power charger and usb cable make it easy to top up on the go with the ability to recharge from a USB port.
Audio
The Treo Pro comes with Palm's standard set of Treo ringtones, most of which are getting a little stale. Fortunately, they are not too difficult to change and Windows Mobile supports custom mp3 ringtones out of the box. The well placed rear speaker can get quite loud for both music and ringtones. Bluetooth A2DP is also on board for wireless stereo headphone support. But the Treo Pro's most notable (and long awaited!) audio option is a standard 3.5mm stereo audio jack. Finally one can use their own quality earbuds for listening to music on the go. Palm even includes a half decent pair in the box that have a built in mic for phone calls as well. Sound was quite good in our informal tests and the included buds sounded respectable even for freebies. With my pair of Shure SE110 headphones the Pro sounded just as good as any other portable audio device I've used.
One audio issue that I did find annoying was an occianal dose of GSM buzz. The Treo Pro would sometimes cause that random hiss and radio noise on the speakers in my car when the phone's data connection was active. Of the many other devices I've used in the same vehicle, none have had such a problem with that, even the Treo 650 which was notorious for causing computer speakers and monitors to buzz at will from random interference. I'm still trying to evaluate the issue so I'm not sure how widespread the problem is or if it is just an isolated case.
Palm Centro and Treo ProTreo Pro Phone Headphones Review
Treo Pro Software
The Treo Pro runs Microsoft Windows Mobile 6.1 Professional Edition. The on-device version number of my review unit was listed as Windows CE OS 5.2.19216 (Build 19216.1.0.5). The Palm Software version was T850UNA-1.01-NAE, Hardware version AN and firmware version of 1.65.28.25.
While Palm's packaging and their own introduction video go out of their way to state that "no detail is too small", Palm seems to have overlooked the biggest detail of all… and that is the software. With all the emphasis placed on the attention to detail, its quite odd that many of the usual elements of the "Palm Experience on Windows Mobile" were simply left out.
Nearly all of the usual niceties and little treatments that Palm has included on past Windows Mobile Treos are absent. In fact, the Treo Pro seems to have more HTC customizations than Palm's own. HTC is the ODM manufacturer that Palm has contacted to manufacture the device. The only Palm customizations that made it to the Pro as far as I can tell are the Today Screen Google search bar plugin, the keyguard functionality and the big clock screensaver.
Fortunately some of the functionality Palm has added on in past device has been replicated in a similar way in the default Windows Mobile build. For instance you can still find and search your contacts simply by typing at the today screen and if you look close enough buried within the phone settings is an option to turn on a similar reject by sms feature. WM6.1 also includes its own version of threaded text messages in the messaging client but many of these features don't seem as polished at their Palm counterparts.
Treo Pro Screenshots
Speaking of HTC customizations there are quite a few on board here. Palm has licensed a number of features that HTC usually includes on its models. The most prominent example is the HTC Task Manager, which is accessible on the top right of the Today Screen. This nice little utility lets you switch between open apps and even lets you fix the "X" button so that it actually terminates apps instead of minimizing them (a longstanding complain about Windows Mobile's memory management or lack of). HTC's Communications Manager is also present. This lets you control all of the different phone and radio functions in one convenient spot. The Camera software is also licensed from HTC. And there is also a AGPS like utility that downloads GPS satellite data for faster signal acquisition times and a streaming media tool that adds support for some streaming internet content such as YouTube, which Windows Mobile does not support by default. A J2ME mobile Java client is also on board for good measure.

Now Windows Mobile certainly has its fans as well as detractors, however it remains one of the leading choices out there for the enterprise market which Palm is aiming at here. Even if WinMob is not your cup of tea, the OS is highly customizable and there is a wide variety of software applications out there. Applications such as PointUI, Spb Mobile Shell and Vito's suite of iPhone like apps can bring an entirely new and enhanced phone experience wrapped up in a .cab file.

Another innovative new addition to the Treo Pro is the lack of a CD in the box. The Pro is actually comes pre-loaded with the required Windows Active Sync desktop software in the device itself. The first time you connect it to your computer it will run and install automatically. Unfortunately Mac OS and Linux users are left without support here as Windows XP and Vista are the only officially supported Operating Systems. When you connect to a Mac a new drive shows up that has a note from Palm on some third party options that you have to purchase to use the device with any non-Windows computer. There are a couple options out there for Mac and Linux users, such as the Missing Sync, PocketMac and SyncMate was recently released which is freeware.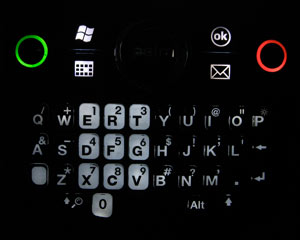 Treo Pro Windows Mobile Screenshots


GPS
GPS (Global Positioning System) is another feature included that greatly adds to the device's usefulness. Palm includes copies of Google Maps and TeleNav that tie in nicely with the built in GPS feature. One thing to note is that the Treo Pro lacked some of the robustness of the GPS software extensions found on the Treo 800w. Signal acquisition times took a while longer to lock in and Palm did not include the very slick GPS search plugin. Nevertheless, the GPS functionality worked well outdoors and is an excellent thing to have onhand.
Messaging
Treo Pro BacklightingThe Treo Pro ships with the standard Windows Mobile Pocket Outlook as its default email application. Pocket Outlook provides nearly everything you'd need to stay on top of your corporate email, calendar and contacts. Out of the box Exchange support with Microsoft Direct Push Technology is present along with the usual POP3 and IMAP protocols. HTML support, native Microsoft Office documents, PowerPoint and PDF and zip file attachment support are also fully accounted for.
The Treo Pro connects directly with Exchange Server 2003 SP2 or 2007 and can easily work within a company's existing Microsoft infrastructure. Windows Mobile 6.1 also includes improved enterprise functionality including support for System Center Mobile Device Manager 2008 which helps administrators manage phones similarly to a Windows-based PC or access company data via a mobile VPN; and support for Exchange Server 2007 SP1 advanced mobile policies.
Web
The web experience is another detail sorely overlooked in my opinion. Microsoft's Pocket Internet Explorer can handle most mobile optimized websites, but oftentimes fails when it comes to most standard websites. It is just a slow browser even with higher speed data connections and it doesn't do a great job rendering most desktop designed sites. Palm should have looked for a more suitable alternate to provide for a more compelling out of the box web experience. That said, there are some alternative browsers out there for Windows Mobile. Opera Mobile is one that does a more decent job and is currently available for free, but comes with the usual beta version quirks. I also tried installing Opera Mini, but for some reason the current version 4.1 would not run on the device.
Multimedia & Entertainment
For such a shinny and innovative new device it seems a little more attention should have been placed on the multimedia components. Instead users have to rely on the somewhat clunky and unintuitive Windows Media application for audio and video. Fortunately, YouTube support has not been overlooked thanks to the supplied HTC utility. Windows Media will get the job done for the most part but there are many more apps out there that will provide a much better experience. Most users will want to invest in some quality entertainment apps like CorePlayer and newly released Kinoma Play for audio and video options and LobsterTunes for digital audio to name a few.
Office & Other Apps
Treo Pro ComparisonRounding out the business end is Microsoft's Office Mobile. This version can open, edit and create all of the newer Microsoft Office file formats. The Office Mobile suite includes mobile versions of Word, Excel, OneNote and PowerPoint. PowerPoint Mobile only functions as a viewer, but users can now get a copy of Documents to Go for Windows Mobile, which includes full Office support and the ability to create PowerPoint on the device if thats your kind of thing. Adobe's PDF Reader LE is also in the rom, as is Microsoft Remote Desktop utility for managing servers and desktop computers remotely. Palm also includes a copy of Sprite Backup for on-device backups to a memory card.
Conclusion
The Treo Pro brings a long list of standout features that Treo users have been clamoring for ages and it does so in an elegantly stylish design. The Treo Pro is without question a breath of fresh air from Palm. Finally a feature packed device that is friendly on the eyes and won't weigh down your pocket.
While its tough to cough up the extra dough for an unlocked device, it's nice that Palm is at least making a new model available to customers first. It's nice not to have to wait through the additional time to market and two year service extensions that usually accompany a carrier purchased smartphone.
The Treo Pro will be available at Palm.com and from Vodafone and O2 in Europe (from free to EUR 399 with contract) and from Telstra in Australia (from free with contract), also will be available in an unlocked version in the United States, Europe and Asia Pacific. Palm says the unlocked version will be made available in the US this fall from its online store for $549. Additional Treo Pro availability is scheduled to follow worldwide.